June 19, 2021, Saturday. 1st day of CVPR. Virtual workshop.
Starts at 10 am Eastern Time; 4 pm Europe Time.
Held in conjunction with the IEEE Conference on Computer Vision and Pattern Recognition 2021.
Welcome to the Third International Workshop on Event-Based Vision!
Pre-recorded videos
WATCH HERE all videos! (YouTube Playlist)
Invited Speakers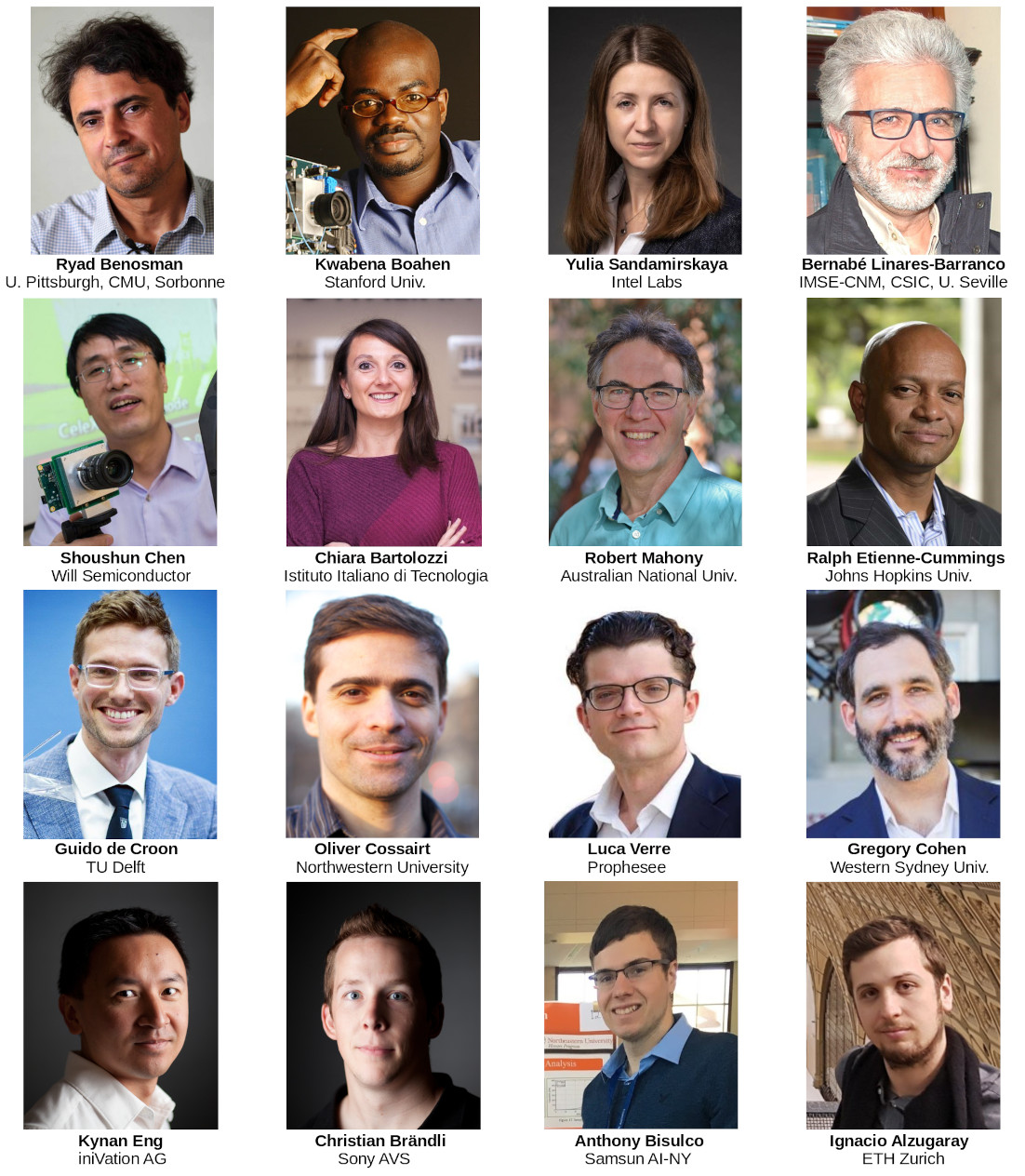 Schedule
Time EST
SPEAKER
TITLE
10:00
Welcome and Organization,

Video

,

Slides

10:10
SESSION 1
VIDEO OF LIVE SESSION
10:10
Ryad Benosman
(University of Pittsburgh, CMU, Sorbonne)
Event Computer Vision 10 years Assessment: Where We Came From, Where We Are and Where We Are Heading To.

Video

,

Slides

10:20
Gregory Cohen
(Western Sydney Univ.)
Neuromorphic Vision Applications: From Robotic Foosball to Tracking Space Junk,

Video

10:30
Robert Mahony
(Australian National Univ.)
Fusing Frame and Event data for High Dynamic Range Video.

Video

,

Slides

,

Paper

10:40
Kynan Eng
(CEO of iniVation)
High-Performance Neuromorphic Vision: From Core Technologies to Applications,

Video

10:50
Panel discussion
11:10
SESSION 2
VIDEO OF LIVE SESSION
11:10
Bernabé Linares-Barranco
(IMSE-CNM, CSIC and Univ. Seville)
Event-driven convolution based processing.

Video

,

Slides

11:20
Kwabena Boahen
(Stanford)
Routing Events in Two-Dimensional Arrays with a Tree.

Video

,

Slides

11:30
Ralph Etienne-Cummings
(Johns Hopkins Univ.)
Learning Spatiotemporal Filters to Track Event-Based Visual Saliency.

Video

,

Slides

11:40
Ignacio Alzugaray
(ETH Zurich)
Towards Asynchronous SLAM with Event Cameras.

Video

,

Slides

11:50
Panel discussion
12:10
INTERMISSION
12:10
Mathias Gehrig
DSEC competition, VIDEO OF LIVE SESSION
12:20
Award Ceremony, VIDEO OF LIVE SESSION
12:30
Poster session of accepted papers and courtesy presentations
Yi Zhou
(HKUST)
Event-based Visual Odometry: A Short Tutorial.

Video

,

Slides

S. Tulyakov (Huawei) and
D. Gehrig (UZH)
Time Lens: Event-based Video Frame Interpolation.

Video

,

Slides

Federico Paredes-Vallés
(TU Delft)
Back to Event Basics: Self-Supervised Learning of Image Reconstruction for Event Cameras via Photometric Constancy.

Video

,

Slides

Daqi Liu
(U. Adelaide)
Spatiotemporal Registration for Event-based Visual Odometry.

Video

Cornelia Fermüller
(U. Maryland)
0-MMS: Zero-Shot Multi-Motion Segmentation With A Monocular Event Camera.

Video

Cornelia Fermüller
(U. Maryland)
EVPropNet: Detecting Drones By Finding Propellers For Mid-Air Landing And Following.

Video

Joe Maljian
(Oculi, Inc)
Oculi products portfolio.

Video

,

Slides

14:00
SESSION 3
VIDEO OF LIVE SESSION
14:00
Yulia Sandamirskaya
(Intel Labs)
Neuromorphic computing hardware and event based vision: a perfect match?

Video

14:10
Anthony Bisulco, Daewon Lee, Daniel D. Lee, Volkan Isler
(Samsung AI Center NY)
High Speed Perception-Action Systems with Event-Based Cameras.

Video

,

Slides

14:20
Guido de Croon
(TU Delft, Netherlands)
Event-based vision and processing for tiny drones.

Video

,

Slides

14:30
Chiara Bartolozzi
(IIT, Italy)
Neuromorphic vision for humanoid robots.

Video

14:40
Panel discussion
15:00
SESSION 4
VIDEO OF LIVE SESSION
15:00
Luca Verre
(Co-founder and CEO of Prophesee)
From the lab to the real world: event-based vision evolves as a commercial force.

Video

,

Slides

15:10
Oliver Cossairt
(Northwestern Univ.)
Hardware and Algorithm Co-design with Event Sensors.

Video

,

Slides

15:20
Shoushun Chen
(Founder of CelePixel. Will Semiconductor)
Development of Event-based Sensor and Applications.

Video

,

Slides

15:30
Christian Brändli
(CEO of Sony AVS)
Event-Based Computer Vision At Sony Advanced Visual Sensing.

Video

,

Slides

15:40
Panel discussion
Accepted Papers
Reviewer Acknowledgement
We thank our reviewers for a thorough review process.
Objectives
This workshop is dedicated to event-based cameras, smart cameras, and algorithms processing data from these sensors. Event-based cameras are bio-inspired sensors with the key advantages of microsecond temporal resolution, low latency, very high dynamic range, and low power consumption. Because of these advantages, event-based cameras open frontiers that are unthinkable with standard frame-based cameras (which have been the main sensing technology of the past 60 years). These revolutionary sensors enable the design of a new class of algorithms to track a baseball in the moonlight, build a flying robot with the agility of a fly, and perform structure from motion in challenging lighting conditions and at remarkable speeds. These sensors became commercially available in 2008 and are slowly being adopted in computer vision and robotics. In recent years they have received attention from large companies, e.g. the event-sensor company Prophesee collaborated with Intel and Bosch on a high spatial resolution sensor, Samsung announced mass production of a sensor to be used on hand-held devices, and they have been used in various applications on neuromorphic chips such as IBM's TrueNorth and Intel's Loihi. The workshop also considers novel vision sensors, such as pixel processor arrays (PPAs), that perform massively parallel processing near the image plane. Because early vision computations are carried out on-sensor, the resulting systems have high speed and low-power consumption, enabling new embedded vision applications in areas such as robotics, AR/VR, automotive, gaming, surveillance, etc. This workshop will cover the sensing hardware, as well as the processing and learning methods needed to take advantage of the above-mentioned novel cameras.
Topics Covered
Event-based / neuromorphic vision.
Algorithms: visual odometry, SLAM, 3D reconstruction, optical flow estimation, image intensity reconstruction, recognition, stereo depth reconstruction, feature/object detection, tracking, calibration, sensor fusion (video synthesis, visual-inertial odometry, etc.).
Model-based, embedded, or learning approaches.
Event-based signal processing, representation, control, bandwidth control.
Event-based active vision, event-based sensorimotor integration.
Event camera datasets and/or simulators.
Applications in: robotics (navigation, manipulation, drones…), automotive, IoT, AR/VR, space science, inspection, surveillance, crowd counting, physics, biology.
Near-focal plane processing, such as pixel processor arrays - PPAs (e.g., SCAMP sensor).
Biologically-inspired vision and smart cameras.
Novel hardware (cameras, neuromorphic processors, etc.) and/or software platforms.
New trends and challenges in event-based and/or biologically-inspired vision (SNNs, etc.).
Event-based vision for computational photography.
A longer list of related topics is available in the table of content of the List of Event-based Vision Resources
Organizers

Sponsor
This workshop is sponsored by event camera manufacturer

FAQs
Upcoming Related Workshops
Past Related Workshops