June 19, 2023, Monday. 2nd day of CVPR, Vancouver, Canada. Starts at 10 am Eastern Time; 4 pm Europe Time.
Held in conjunction with the IEEE Conference on Computer Vision and Pattern Recognition 2023, as part of the track: CV for non-traditional modalities.
Welcome to the 4th International Workshop on Event-Based Vision!

Many thanks to all who contributed and made this workshop possible!
Speakers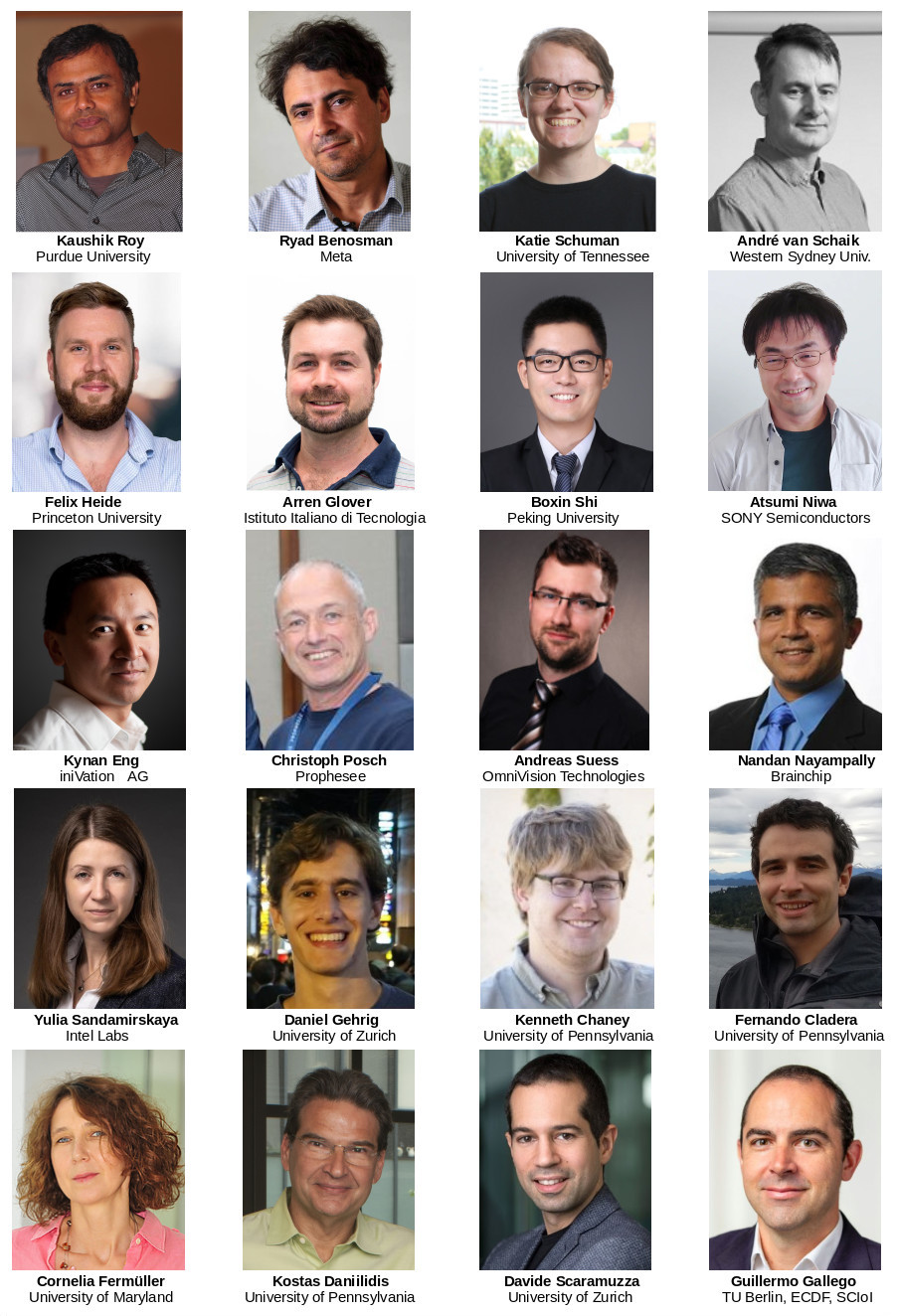 Location: Hybrid
On site (Vancouver Convention Center): Room West 209
Schedule (starts at 8 am Vancouver time)
The tentative schedule is the following:
| Time (local) | Session |
| --- | --- |
| 8:00 | Welcome slides, Video |
| 8:00 | Session 1: Event-based cameras and neuromorphic computing (Invited speakers) |
| 10:10 | Coffee break. Set up posters. |
| 10:30 | Session 2: Poster session: contributed papers, demos and courtesy presentations (as posters). |
| 12:30 | Lunch break |
| 13:30 | Session 3: Applications, Algorithms and Architectures (Invited speakers) |
| 15:30 | Coffee break |
| 16:00 | Session 4: Industrial Session (Invited speakers). |
| 17:45 | Award ceremony, Video |
| 18:00 | End |
Session #1 (8:00 h, Vancouver time)
Session #2 (10:30 h, Vancouver time)
Poster session. Accepted papers, demos and courtesy presentations. See links below.
Posters #1 to #49 in the West exhibit hall are booked for this workshop from 10:10 to 13:30 h. All posters must go up at 10:10 h and be taken down at 13:30 h.
Session #3 (13:30 h, Vancouver time)
Session #4 (16:00 h, Vancouver time)
Courtesy Presentations (as posters, during session #2)
Poster boards 1 to 11.
Accepted Papers
Poster boards 11 + list index: 12, 13, 14, etc.
Live Demonstrations
Poster boards 37 + list index: 38, 39, 40, etc.
Papers at the main conference (CVPR 2023)
Objectives
This workshop is dedicated to event-based cameras, smart cameras, and algorithms processing data from these sensors. Event-based cameras are bio-inspired sensors with the key advantages of microsecond temporal resolution, low latency, very high dynamic range, and low power consumption. Because of these advantages, event-based cameras open frontiers that are unthinkable with standard frame-based cameras (which have been the main sensing technology for the past 60 years). These revolutionary sensors enable the design of a new class of algorithms to track a baseball in the moonlight, build a flying robot with the agility of a bee, and perform structure from motion in challenging lighting conditions and at remarkable speeds. These sensors became commercially available in 2008 and are slowly being adopted in computer vision and robotics. In recent years they have received attention from large companies, e.g., the event-sensor company Prophesee collaborated with Intel and Bosch on a high spatial resolution sensor, Samsung announced mass production of a sensor to be used on hand-held devices, and they have been used in various applications on neuromorphic chips such as IBM's TrueNorth and Intel's Loihi. The workshop also considers novel vision sensors, such as pixel processor arrays (PPAs), which perform massively parallel processing near the image plane. Because early vision computations are carried out on-sensor, the resulting systems have high speed and low-power consumption, enabling new embedded vision applications in areas such as robotics, AR/VR, automotive, gaming, surveillance, etc. This workshop will cover the sensing hardware, as well as the processing and learning methods needed to take advantage of the above-mentioned novel cameras.
Topics Covered
Event-based / neuromorphic vision.
Algorithms: motion estimation, visual odometry, SLAM, 3D reconstruction, image intensity reconstruction, optical flow estimation, recognition, feature/object detection, visual tracking, calibration, sensor fusion (video synthesis, visual-inertial odometry, etc.).
Model-based, embedded, or learning-based approaches.
Event-based signal processing, representation, control, bandwidth control.
Event-based active vision, event-based sensorimotor integration.
Event camera datasets and/or simulators.
Applications in: robotics (navigation, manipulation, drones…), automotive, IoT, AR/VR, space science, inspection, surveillance, crowd counting, physics, biology.
Biologically-inspired vision and smart cameras.
Near-focal plane processing, such as pixel processor arrays (PPAs).
Novel hardware (cameras, neuromorphic processors, etc.) and/or software platforms, such as fully event-based systems (end-to-end).
New trends and challenges in event-based and/or biologically-inspired vision (SNNs, etc.).
Event-based vision for computational photography.
A longer list of related topics is available in the table of content of the List of Event-based Vision Resources
Organizers

Important Dates
Paper submission deadline: March 20, 2023 (23:59h PST). Submission website (CMT)
Demo abstract submission: March 20, 2023 (23:59h PST)
Notification to authors: April 3, 2023
Camera-ready paper: April 14, 2023 (deadline by IEEE)
Standard registration begins May 1st.
Workshop day: June 19, 2023. 2nd day of CVPR. Full day workshop.
FAQs
Upcoming Related Workshops
Past Related Workshops
Supported by